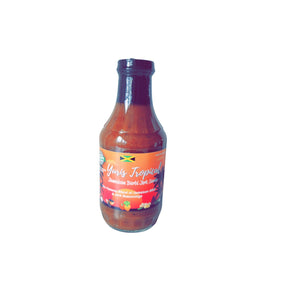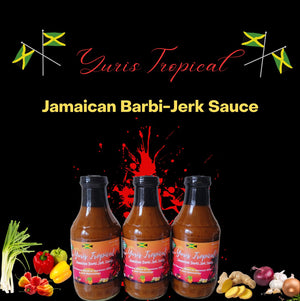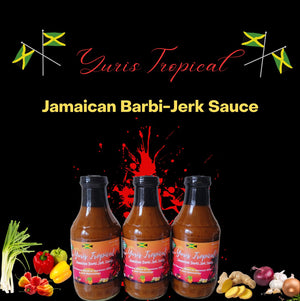 Yuri's Tropical Barbi-Jerk Sauce - 16oz
Yuri's Tropical Jamaican Barbi-Jerk Sauce captures the authentic taste of Jamaican Jerk seasonings in a rich barbecue sauce, that is versatile and easy to use.. 
Add a delicious splash of flavor to your meals with Yuri's Tropical Jamaican Barbi-Jerk Sauce. This is an excellent addition to chicken, pork, fish, hamburgers and vegetables.
Yuri's Tropical 
Jamaican 
Barbi-Jerk
 Sauce
 is a good choice for dipping finger food like french fries, fish sticks and chicken nuggets or for marinating and cooking. The spicy kick makes this sauce an excellent choice for preparing meals inspired by Caribbean cooking or for simply adding an exotic taste of the tropics to common meals.
Ingredients
Water, Tomato Paste, Distilled Vinegar, Onions, Salt, Spices, Brown Sugar, Shallots, Mustard, Worcestershire Sauce, Garlic, Peppers, Ginger, Onion Powder, Garlic Powder, Strawberry Preserves, Honey, Smoked Paprika, Dried Scallions, Dried Parsley, Cayenne Peppers
Directions
Keep refrigerated after opening ideal for meats, seafood and vegetables.